MUSEUM NEWS: Welcome to the D3D Family
Discovery Park of America Upgrades Theater and Joins Cinéfolio Network
Discovery Park of America upgraded their former Starship Theater, renamed to "Discovery Theater", by incorporating a state-of-the-art laser-illuminated 4K Digital 3D projection system. The new projection and sound systems include the latest high-efficiency laser projector on the market, with an advanced surround-sound system and a capable alternative-content system which provides significant new programming capabilities in the theater. Discovery Park also joins the Cinéfolio theater network with access to over 75 titles to bring to their community.
3D Laser Cinema & Birdly VR Soar into Cleveland!
D3D Cinema and the Cleveland Museum of Natural History joined forces to bring two new, immersive, science-focused storytelling experiences to Museum visitors: a state-of-the-art 3D laser cinema and two Birdly VR flight simulators. The Museum's newly upgraded 3D cinema showcases films from D3D's Cinéfolio portfolio, and two Birdly VR units complement the new cinema by featuring a choice of flying natural history avatars.
Denver Museum of Nature & Science upgrades to D3D's Laser 4K 3D
D3D Cinema upgraded and replaced the pre-existing IMAX Digital system at the Denver Museum of Nature & Science with a state-of-the-art laser-illuminated 4K 3D projection system. The new projection and sound systems serve as the cornerstone in a generational upgrade of the giant-screen theater, which also included a renovation of the seating and other public areas of the theater.
New Bedford Whaling Museum Launches New Cinéfolio 3D Theater
The New Bedford Whaling Museum launched BIG BLUE PICTURES in Fall 2022, a new immersive 3D cinema experience at the museum, and the first and only 3D theater on the South Coast of Massachusetts.  D3D designed and installed the stunning new laser-illuminated cinema system, which will support and extend the museum's mission to ignite learning and inspire their visitors, bringing fascinating subjects alive through compelling science and research adventure documentaries.

TO READ MORE, CLICK HERE
MILESTONES: D3D Surpasses 100 Museum Cinema Installations
With the completion of the Q4 integrations, D3D is proud to have surpassed 100 cinema installations worldwide. This milestone includes venues in D3D's Cinéfolio network, exhibition cinemas and 35 giant screens. Over the course of fourteen years, D3D has been at the forefront of technological innovation with numerous 'firsts' along the way, including the first 4K digital large format projection system, the first large format laser exhibition platform, the first giant dome cinema-optimized system, with more innovations on the horizon.
"We are proud to have hit this milestone in our mission to drive the vitality and growth of museum cinema. Our longtime aim has been to make the world's most memorable immersive cinema experiences affordable and accessible to museums of all sizes," said Derek Threinen, SVP, Distribution and Business Development at D3D Cinema.
TEAM NEWS: D3D Expands Leadership and West Coast Offices
In our continued commitment to the growth and vitality of a vibrant museum cinema network through the design and integration of the highest-quality systems and the delivery of sector-leading service and support, D3D has added some serious strength to our dedicated team with longtime industry veterans Rob Chaney and Chris Roles.
Chris Roles, Vice President of Operations: Chris has assumed his new role as D3D's Vice President of Operations, applying his extensive knowledge and experience to D3D's Project Management and Logistics efforts. Along with taking a vital role in the day-to-day operations of the business, Chris is also managing D3D's Post Production facilities. Chris' vast industry experience and knowledge has been developed over the better part of two decades of service with major D3D supplier Christie Digital Systems, Inc. He has worked in a variety of progressive roles, from Field Service and Service Management through Technical Sales Management and Sales Account Management. Chris is based in Roseburg, Oregon.
Rob Chaney, Vice President of Systems Engineering: Rob joins us as Vice President of Systems Engineering, bringing a wealth of experience from his most recent role at X20 Media in custom Digital Signage (HW/SW) solutions, along with over a dozen years' expertise with major D3D supplier Barco, Inc. in Senior Technical and Product Applications Engineering roles.  In addition to supporting D3D's Systems Engineering and training team, Rob will be developing new ancillary capture-amplifying technologies for our museum clients, including networked point-of-purchase, wayfinding, and promotional signage. Rob is based in Sacramento, CA.
TECHNOLOGY NEWS: D3D Expands Into Capture-Amplifying Digital Signage Solutions to Drive Museum Cinema Attendance
From dynamic data point-of purchase boards, digital posters, and sale/wayfinding kiosks to projection mapping and networked displays, D3D is expanding into new media solutions aimed at maximizing upsells and capture.
D3D's Digital Signage system has been designed expressly for museums and attractions as a capture-amplifying technology that drives interest and engagement, and facilitates visitor movement and follow-through.  Each custom design integrates dynamic data sources – from point-of-purchase menu boards, film schedules and digital posters to trailers and behind-the-scenes vignettes to capture the imagination of visitors across the museum campus. But the potential for this technology extends far beyond the cinema… from the number and location of available parking spots in the museum garage, to on-demand maps and wayfinding in the galleries, D3D's cloud-based portal makes managing large or small installations of sleek and bright LED signage easy, enhancing the visitor experience throughout their time onsite.
"Digital Signage presents an opportunity for museums  to enhance the visitor experience by providing dynamic and interactive content that engages, educates, and entertains. With Digital Signage, museums can highlight their unique offerings, showcase their exhibits, and promote upcoming events in a visually stunning way, ultimately driving increased customer engagement and ticket sales," said Rob Chaney, VP of Systems Engineering at D3D Cinema.
CONTENT PORTFOLIO NEWS: MacGillivray Freeman Films Joins the Cinéfolio Library
Cinéfolio has expanded to include over 75 titles from leading museum cinema producers such as GSF, Cosmic Pictures, K2 Studios, SK Films, BBC Earth, National Geographic, MacGillivray Freeman Films and more! In 2023 the Cinéfolio catalog will continue to expand with the addition of 10 new titles! "We are thrilled to include several outstanding MacGillivray Freeman Films documentaries in the Cinéfolio catalog. MFF's track record of producing and distributing inspirational and engaging giant screen, museum documentary content for a period of over five decades is second to none," said Andy Wood, SVP at D3D Cinema.
The latest addition to the Cinéfolio content portfolio comes from MacGillivray Freeman Films and will include INTO AMERICA'S WILD, NATIONAL PARKS ADVENTURE, ANCIENT CAVES and ASTRONAUT: OCEAN TO ORBIT. 
BIRDLY NEWS: Butterfly Launches on Birdly Simulator Platform
Science centers have long offered airplane and rocket flight simulators, but Birdly delivers a full-body flying experience for natural history and technology enthusiasts alike including our newest avatar, a butterfly! Butterfly joins our expanding portfolio of Birdly experiences, alongside Wingsuit, Jurassic Flight, and Reef Dive.
Take to the skies on the wings of a butterfly to explore the role of pollinators in an urban garden ecosystem. Built with advanced game engine graphics, Butterfly is a groundbreaking, immersive journey through a photorealistic city habitat, featuring interactions with over three dozen plant, insect, bird, reptile and mammal species.
As a butterfly avatar, Birdly riders can unlock enhanced gamification features, such as slow-motion mode and the activation of super-senses to discover aspects of our world usually hidden from humans. Trigger UV-Vision to reveal unseen patterns on flowers and Smell-O-Vision to discover concealed insects by their pheromone trailers. Butterfly offers a big perspective through the eyes of the small.
"D3D is thrilled to be adding the beautiful and serene new Butterfly experience for Birdly. A perfect fit for natural history museums, nature centers, public gardens, aviary museums and butterfly pavilions," said Mark Katz, SVP of Film Distribution and VR Experiences at D3D Cinema.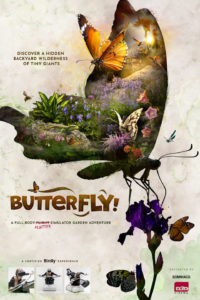 | | |
| --- | --- |
| | D3D Cinema (D3D) offers complete digital cinema and virtual-reality solutions and services to museum and attraction industry clients worldwide, providing a unique partnership approach built around five core capabilities – theater design and installation; touring exhibition theaters; cutting-edge Virtual Reality attractions, an award-winning library of giant-screen digital content; and custom signature film production. Comprised of institutional theater specialists, D3D excels in bringing first-to-market immersive cinema technologies to its clients, offering technology-agnostic consultation, strategic planning, installation, operational support and ongoing service. D3D is headquartered in Evanston, IL with offices in the greater New York and Philadelphia areas, Canada and Spain. Visit www.d3dcinema.com. |